Step by Step Drawing Lesson



Do you want to learn how to draw Pikachu, the most popular of all Pokemon characters amongst boys and girls? I have put together a step-by-step tutorial that will help you figure out how to draw Pikachu by using simple shapes to build up Pikachu's form. This is an intermediate cartooning tutorial that older kids, teens, and adults will enjoy. Even some younger children might be able to draw Pickachu if you stand by to help with the instructions. Enjoy!
You Might Also Be Interested in Other Drawing Lessons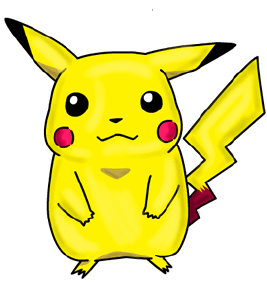 Step by Step Drawing Lesson
Step 1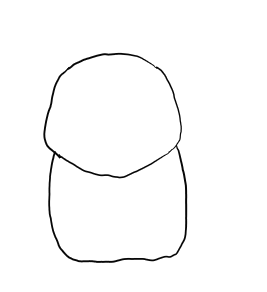 First, Sketch out the Outline of Pikachu's head and torso. If you look at Pikachu closely, you will be able to see that his head is the shape of a rectangle with curved corners. Pikachu's torso is the shape of a square with curved corners. Look carefully at the proportions (size of the head in comparison to his torso) of Pikachu's head in comparison to his torso (body). Don't worry about mistakes because you can erase these later. Later, you will be using a pen or marker to outline the 'right' lines.
Step 2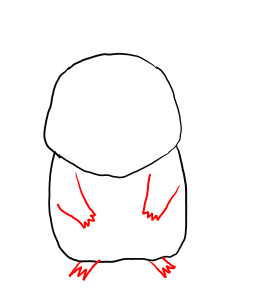 Now, please take notice of the areas that are drawn in red….Pikachu's arms / hands, and feet. These shouldn't be too hard for you to draw. Look at each basic shape and you will notice that the feet look like W's with one extra hump…and the hands look like W's with two extra humps. If you think of shapes in the most simplest of forms, you won't have problems immitating them.
Step 3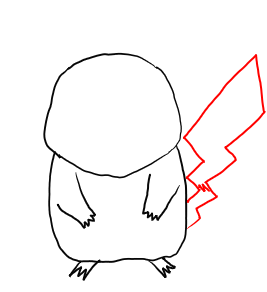 Now we will work on drawing Pikachu's tail. You might want to try to picture his tail as two zigzags with a triangle resting above it (as seen below), it might be easier for you to draw it. Or you might want to picture it as a bubble letter W with a triangle sitting on top of it, which ever works for you better. Don't forget to draw the 'M' looking stripe on his lower tail too.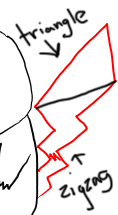 Step 4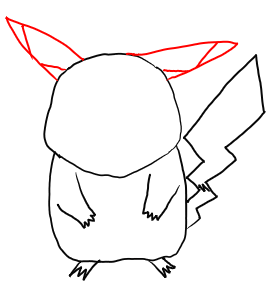 Now draw Pikachu's crazy cute ears. His ears look like pointy, mishapen triangles. Within each of these triangle-ears, there is another triangle-like shape, so try to draw that too.
Step 5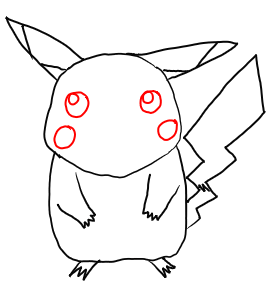 Now, take a look at Pikachu's eyes and rosy cheeks and see if you can draw them too. The eyes and cheeks are about the same sized circle….the only difference is that the eyes have smaller circle within them too.
Step 6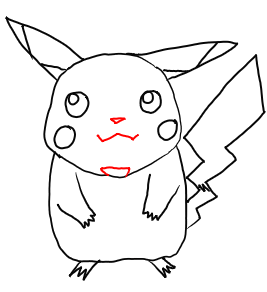 Now for the last drawing details. Draw Pikachu's chin, mouth and nose. The mouth looks like a wide 'W', the chin looks like a closed, wide 'U', and the nose looks like a closed 'V' or a triangle.
Step 7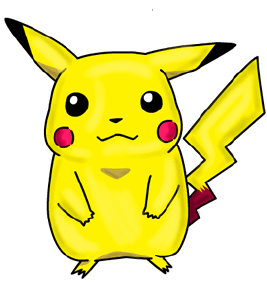 Now you just have to erase lines that you don't need and outline the 'correct' lines with a pen or marker. If you are having problems figuring out which lines to erase, then reference my drawing (above) for help. Use your watercolors, markers, colored pencils, crayons, or chalk to color Pikachu and you will have an amazing Pikachu to show off to your friends